Latest News and Updates
Our next event is a Tech Talk by Nick Gaski from Kaleido all about blockchain! It will be held this coming Tuesday, September 11 at 6pm in Engineering Building 2 room 1231 (CSC side).
Kaleido, a proud ePartner of NC State and a ConsenSys business, is dedicated to the growth and adoption of enterprise blockchain and aims to transform how we collectively build new economic, social and political paradigms. Nick has deep enterprise, blockchain and protocol experience, and is helping to shape this emerging marketplace. In this 90 minute introductory session, you will learn the basics about:
Distributed Databases vs Blockchain
Public vs Private Chains
"Mining" and Consensus
Smart Contracts
Ethereum Tools and Libraries
Enterprise Applications of Blockchain
This kickoff is a pre-requisite to the Kaleido Hackathon, a week long innovation challenge using the Kaleido all-in-one blockchain platform to create your own bespoke blockchain solution.
There will be free pizza and refreshments served! For graduate students this is event will also count towards the graduate seminar requirement.
We hope to see you there!
Interested in learning more about technology? ACM/AITP at NC State is holding a general meeting on Tuesday, September 4th from 5-6pm in the Student Involvement Suite on the 4th Floor of Talley Student Union for all new and returning members. We'll be discussing our Tech Talks and workshops, and how you can get involved in our club software project. Free pizza and drinks will be provided!
We hope to see you there!
DellEMC, one of NC State's Computer Science e-Partners, will be coming to give a TechTalk called DD BOOST: A Distributed Deduplication API.
The talk will be held in EB2, room 1231 (the usual place); as always, pizza and drinks will be provided!
Here's an abstract for the talk:
How can you make a backup copy of a 10 Gigabyte file over a 1 Gigabyte/sec network link at a rate of 6 – 8 Gigabytes/sec without violating the speed of light or other laws of physics? And how can you store that backup copy on the storage server in as little as 100 Megabytes? DD BOOST is an Application Programming Interface (API) library that does just that by supporting distributed deduplication, with client systems performing segmenting and fingerprinting of file data and the deduplicating storage server system determining which data needs to be sent to the storage server. By suppressing the transmission of duplicate data, this results in dramatic increases in throughput compared to writing via NFS with a median reduction in network traffic of 90 – 99%. This can also reduce the amount of storage space needed to store backups by a factor of 10 – 100. We will describe how DD BOOST does all of this and some of our experiences from several years of customer usage.
Hope to see you there!
On September 5th, ACM/AITP will be hosting a Fall 2017 social in Tompkins Hall, room G118 from 6 to 8 PM! Come on out to meet the officers, hang out with other people interested in computing, and otherwise have a great time!
We'll have light refreshments, drinks and board games! Hope to see you there!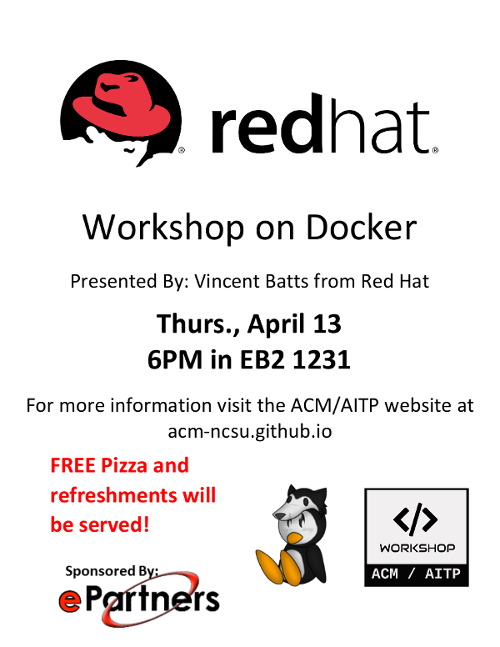 On Thursday, we had Mark S. McDavid and a data science associate at Eastman come and give a talk on SQL, specifically Microsoft SQL Server. Eastman, like most companies, is quite reliant on data extraction and analysis for day to day operations, so SQL knowledge is pretty paramount!
In partnership with NC State's National Society of Black Engineers chapter, ACM/AITP hosted a data visualization workshop, intended for beginners to programming!
On Tuesday, two representatives from the Vanguard Group came out to speak with us about the MEAN software bundle and Hadoop, two technologies that they use every day to build web apps and crunch numbers behind the scene.
Here are some upcoming opportunities for ACM/AITP members:
Mozilla's Challenge
The Mozilla Foundation is being funded by NSF to host an open challenge concerning the accessibility, design, and resiliency of the Internet. It asks:
How can we leverage wireless technology to keep people connected in the aftermath of a disaster?
How can we leverage existing infrastructure to provide high-quality wireless connectivity to communities in need?
The challenge will involve two tracks, with two stages each, and will conclude in summer of 2018. First place awards $460,000 in total.
To attract applicants, Mozilla will host a series of networking events. The first will take place in Talley Student Union on Saturday, March 25 from 10:00-5:00 p.m.
Only 100 participants will be invited to attend, so sign up soon and spread the word!
See here for the formal announcement from Mozilla directly, and contact snswarin@ncsu.edu for further info.
Summer Camp IT Specialist
The Southeastern Regional Manager for Summer Camp Operations for Youth Digital is currently hiring Summer Camp IT Specialists for their tech-based camps for kids ages 8-14 in the RDU area. They are partnering with local organizations (http://www.youthdigitalcamps.com/raleighdurham.html) to deliver amazing experiences!
From Mark Shivers, Southeastern Regional Manager for Summer Camp Operations
We spend this summer making Kid's dreams come true. We offer exciting and cutting edge camps to kids ages 8-16 using innovative curriculum with cutting-edge immersion and project based classes. Students will learn from us not only how to code, illustrate, and render, but ultimately how to Create.
This is a paid position. Most camp days run from about 8:30am to 4:30pm (M-F) though some sites do vary. There is online training that can be completed on staff member's own time as well as one day of onsite training. Both of these are compensated. Staff will complete background screening and need reliable transportation to our partner schools.
Use this form to apply, or email Mark Shivers for more information!
This is the official website for NC State's ACM/AITP chapters! We've never had our own website before, so we're currently putting it all together!
So far we have included our public event calendar and eventually will include our by-laws.
We're also hoping to add Disqus comments to the end of our posts so that members can post follow up questions to our Tech Talks, but that has yet to be implemented.
Additionally we may use something like this to embed some documents on the site.
Spread the word, and come join us at our next event!